We have ranked the best Grass-type Pokemon from Scarlet & Violet.
One of the most common and well-known types of Pokemon is grass-type. In every Generation, one of the starting Pokemon is also a Grass type. This is still true in Pokemon Scarlet & Violet, where you can choose Sprigatito.
Besides the starter, there are a few other Grass-type Pokémon that are either pure Grass or a mix of Grass and another type. Paldea has a lot of Water, Rock, and Ground types, so Grass types are very important. You'll want to catch some of the best ones if you want to beat the Pokemon types listed above.
Iron Leaves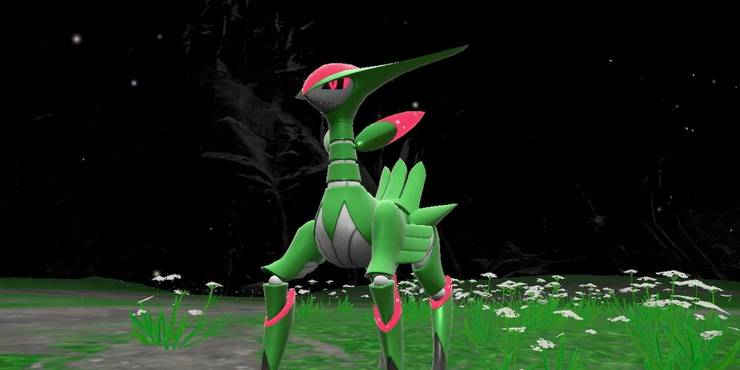 Iron Leaves is a Paradox Pokemon in Pokemon Scarlet & Violet. It is a Grass/Psychic type. It was made available as a special Tera Raid and is clearly a form of Virizion from the future. Only this Pokemon can learn the move Psyblade, which is oddly the only damaging Psychic-type move it knows.
Even though it looks like a legendary Pokemon, it is not a legendary Pokemon. Iron Leaves is still very powerful, though. You just need to pay attention to all of its flaws. It has very high Speed and Attack, but Flying, Poison, Bug, Ghost, Fire, Ice, and Dark-type techniques are easy to use against it.
Wo-Chien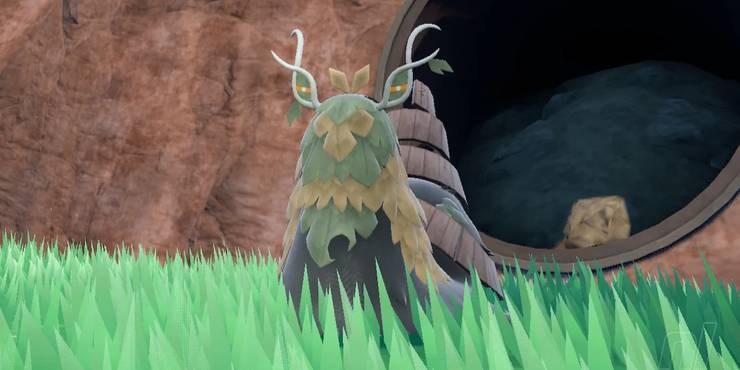 The Treasures of Ruin are a group of legendary Pokemon that can be found in the Paldea area of Pokemon Scarlet & Violet. The Dark/Grass type in the group is Wo-Chien. It isn't as important as other Pokemon, but as a Legendary Pokemon, it will beat most creatures that aren't Legendary.
It has an incredible seven weaknesses, and many of them are very popular in Paldea. Wo-Chien has a base Defense of 100 and a Special Defense of 135, which is good news. That lets it hit back with its powerful signature move, Ruination, after taking some damage. Ruination cuts the target's health in half when it hits.
Arboliva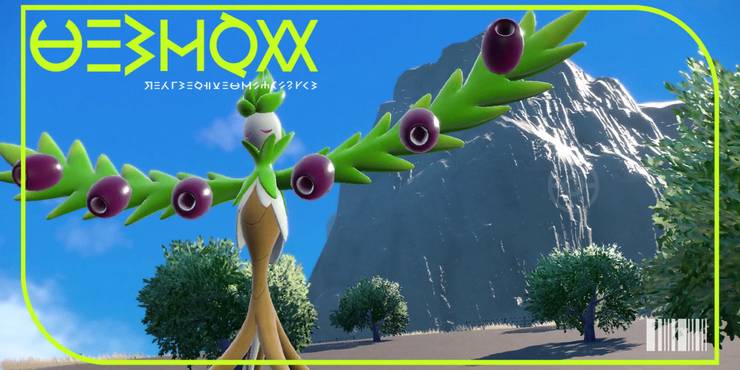 Arboliva has a rare and strange type, which is Grass/Normal. It is the last form of Smoliv. Dolliv turns into it at level 35. Because the Normal type is also a part of the Grass type, it has a lot of flaws, but Ghost attacks can't hurt it.
This pretty Pokemon that looks like a tree isn't very good at Physical moves in battle, but it really shines when it comes to Special moves. It has a base Special Attack stat of 125 and a base Special Defense stat of 109, which are both pretty high. That's enough to keep it going.
Toedscruel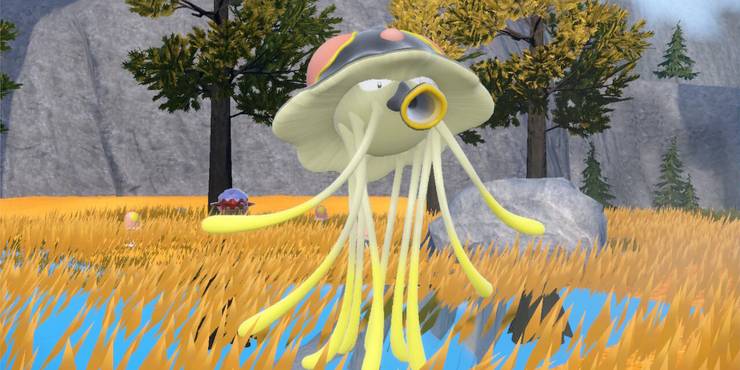 You would be wrong to think that Toedscruel is a Paldean word for Tentacruel. Even though it looks similar, it is a different type of Pokemon. When Toedscool gets to level 30, it changes into a Ground/Grass type.
It is easy to find and is a very fast Pokemon, so you can add it to your team even if you don't choose the Grass-type starter. Toedscruel is immune to Electric-type techniques, and it can also learn a lot of moves that are very good against Pokemon that are weak to it.
Brambleghast
Brambleghast is another interesting Pokemon that is a mix of grass and ghost. You can get your own in Scarlet & Violet by catching a Bramblin and teaching it to evolve. To make it evolve, you'll need to use the Let's Go tool, take it out of its Poke Ball, and walk 1,000 steps with it. You'll also need to level it up.
After you've done all of that, you'll have a ghostly tumbleweed that is surprisingly fast and has a good Attack stat as a foundation. It also has a special skill called Wind Rider. When an opponent hits it with a wind move or uses Tailwind, its Attack goes up, making it even more dangerous.
Leafeon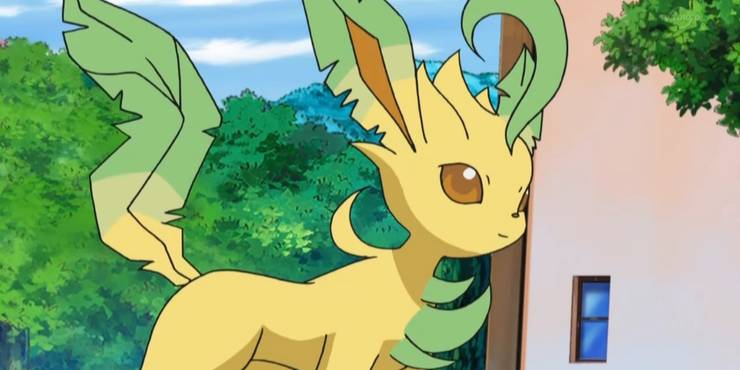 Leafeon is one of the ways that Eevee can change. You can get the Grass-type version of Eevee by leveling it up near a Moss Rock or by using a Leaf Stone. Most people think of it as the weaker evolution of Eevee, but that just means Leafeon is way overlooked.
Some of the other Eevee evolutions are harder to get than this one. And it is very good at hitting. With a base Speed of 95, it can often hit before its opponents. Then, with 110 base Attack and 130 base Defense, it can do a lot of damage and take a hit.
Abomasnow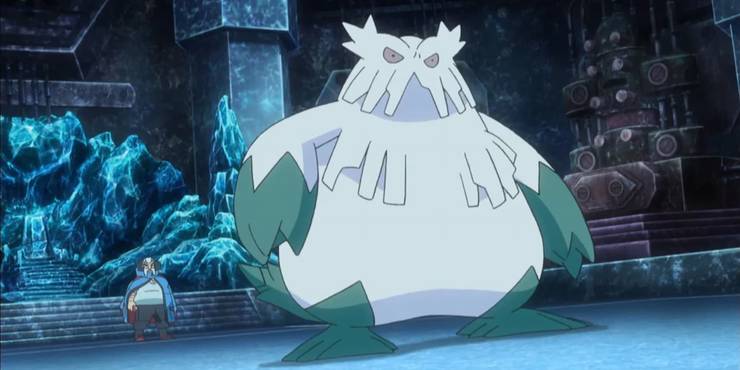 Abomasnow is a creature that is absolutely frightening. The Pokemon that looks like a snowy tree is often shown as scary and dangerous. Yes, that's true. It evolves from Snover at level 40, giving it equal stats and a Grass/Ice type that lets it use moves that can take down even the strongest Dragon-type Pokémon.
You will have to think about a few weaknesses, though. Abomasnow is one of the Pokemon in Scarlet & Violet with the most weaknesses. Fighting, Flying, Poison, Rock, Bug, and Steel strikes hurt it the most. On top of that, moves that use the Fire type hurt it twice as much.
Scovillain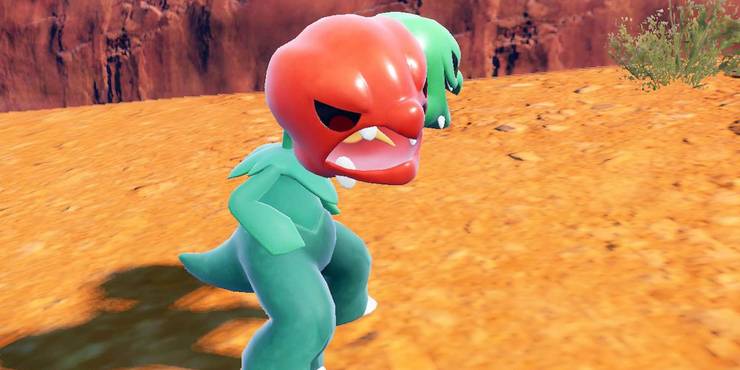 The first Grass/Fire-type Pokemon was added in Pokemon Scarlet & Violet. Scovillain is the only one of its kind. It grows from Capsakid when it touches a Fire Stone. The name of this one-of-a-kind Pokemon is a play on the word "Scoville," which is used to measure how hot a pepper is.
When you add the two types together, they make it much less vulnerable. Now, only Flying, Poison, and Rock-type weapons can hurt it. Both its Attack and Special Attack have a base of 108 when it comes to fighting. This gives you more options for how to beat your opponents.
Breloom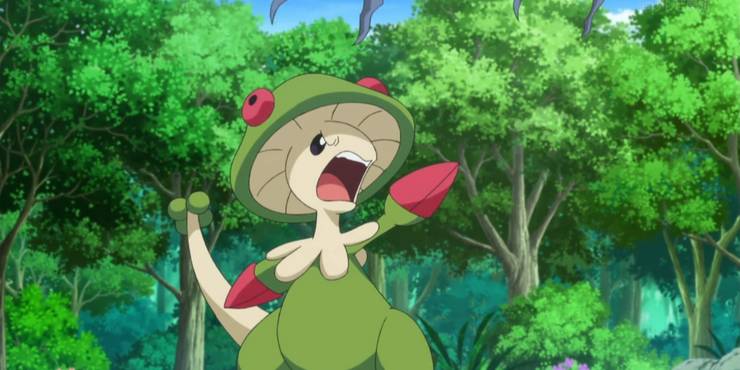 Breloom was first seen in Generation 3. Shroomish turns into Breloom at level 23. It is a Grass/Fighting type that stood out in both the games and the anime series. The Mushroom Pokemon is a good example of its secondary type because it fights with no pity.
If you want to put together an attacking team that attacks the other Pokemon with all its might and you need a Grass-type, Breloom is the best choice. It has average numbers in most categories, but its base Attack is 130. That's higher than Gyarados, Heracross, and even the Legendary Terrakion.
Appletun And Flapple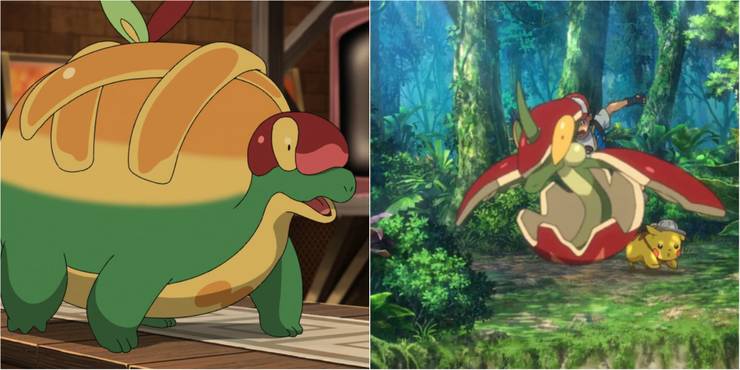 Here you can see Appletun and Flapple together. Even though they are different Pokemon, they both start out as Applin and grow into Grass/Dragon Pokemon. Whether you use a Sweet Apple or a Tart Apple relies on what type of battler you need from the evolved Applin.
The way each type works is the same, and the total number of base stats is still 485 for both. The main difference between the two strong apple-themed dragons is how the stats are distributed. Appletun is very slow and uses Special Attacks most of the time. Flapple is a little bit faster, and its numbers are more focused on Physical Attacks.
Brute Bonnet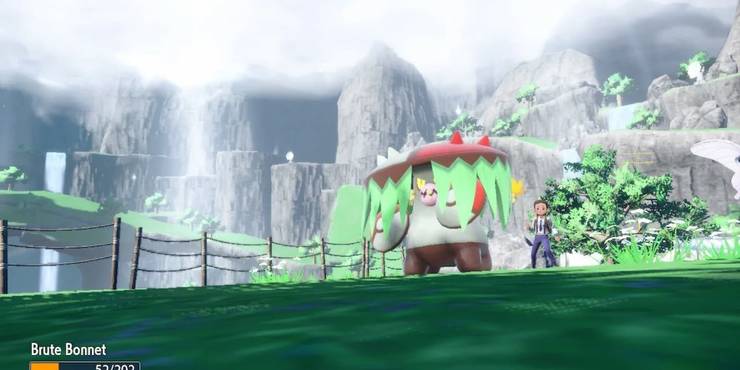 In Pokemon Scarlet & Violet, Brute Bonnet was debuted as a Paradox Pokemon. This is something that only Scarlet has, because it comes from the past. Paradox Pokemon are versions of Pokemon from the past and future, but the Pokedex counts them as their own species.
You will meet this version of Amoongus, which is a Grass/Dark type, late in Slope Game. If you catch it when you have the chance, you might have a Grass-type Pokemon on your team. Still, Brute Bonnet shouldn't be forgotten. Even though it moves slowly, its base Attack is 127 and its base HP is 111.
Meowscarada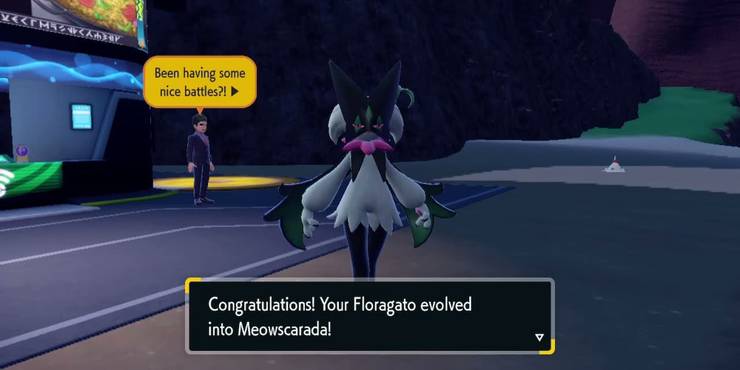 Sprigatito, the Grass-type starting Pokémon in Scarlet & Violet, evolves into Floragato, which is also a Grass-type, and then into Meowscarada at level 36. At this point, it gets a second type and changes into a Grass/Dark Pokémon.
With a base Speed stat of 123 and a base Attack stat of 110, the Paldean starter's last form is very fast and can do the job offensively. This goes well with its signature move, Flower Trick, which never misses and always scores a critical hit. With the Same Type Attack Bonus that it gets from being a Grass-type move, it makes an unbeatable pair with Meowscarada.